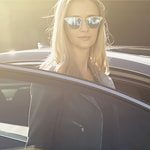 It's important to us at Jaguar Fox Valley for drivers in Appleton to be safe on the road in many different conditions. It's not just rain or snow that poses driving problems. Bright sunny days can be problematic too when they cause glare. The following are some important tips for driving in sunny weather:
- Purchase polarized sunglasses to reduce glare
- Use your sun visor to block out the strongest rays
- Don't follow too closely if the glare is blocking your view
- Keep your windshield clean on both the inside and outside to reduce glare from particles
- Don't store items on your dash that might cause glare on your windshield
- If you can't see the road, keep your gaze on the lane markings
- Turn your headlights on to give other drivers more visibility
Stop by our Appleton location today to test drive a vehicle.